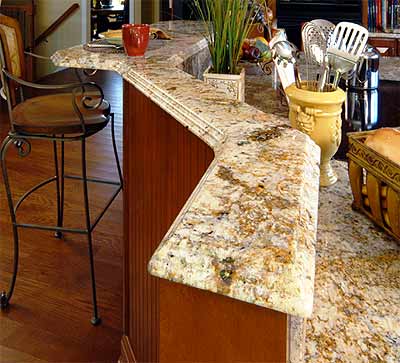 Bar countertops are ideal for any social setting. They are a luxurious eye catcher for guests, but highly functional as well. They can provide you that extra counter space you might need for serving drinks or dining while chatting with family and friends. Bar tops provide you with a closer feel than using a table, and should be incorporated to be built-in to the serving area.
The most popularly used finish for bar counters is a glossy surface finish. This could be done by using granite, marble or quartz. Corian is also another option to look into if you are going for an integral, matted look.
The unique look of Marble will enhance the elegance of the entire room with it's high gloss finish and unique pattering. It is easy to clean and comes in a variety of colors that will make any bar stand out.
A natural Granite top is just as stylish, durable, and shiny. The inconsistent patterning with every color will highlight the beauty of this natural stone and leave your kitchen bar with an original look that can't be duplicated. The veining and glossy finish in granite will truly give your kitchen an elegant and bold look.
Go for Corian countertops if you desire a seamless look. Your sink and backsplashes can be integrated into your bar top all as one piece. Corian is easy to clean and repair, and highly resistant to heat.
If you don't want to worry about maintenance, go with a Quartz material. Because it is a stone product like granite and marble, it also has the benefit of having a high gloss finish. However, there is no maintenance involved and it is scratch, stain, and heat resistant. The type of quartz that we offer here at Columbia Kitchens includes: Silestone, Cambria, Zodiac, Caesarstone, and Hanstone.
Standard Bar Top Specs:
The average bar countertop sets at 40-46 inches off the ground to enhance comfort for taller bar stool seating and mingling. Bar stools should be a 28 inch minimum but can vary depending on the styling and thickness of the seat.
The depth of the seating area will vary as well, but there is usually an 11 inch minimum that will overhang past your kneewall, cabinet, or support area. An 11 inch overhang will provide you with the perfect amount of leg area and room to hide the stools when you are not sitting at them. Try to plan for having at least 16 inches in total depth for the top so that you can place serving platters and plates on the top more comfortably.
There should be at least 3 to 4 feet of working space behind the bar. This guideline will allow you to serve food and drinks to guests without feeling crammed and ensure any easy work flow.
Pair your bar counters with cherry or dark finished maple cabinets to give your bar area a warm and relaxed feel. Glass doors, wine racks and stem glass holders are also recommended to make the area feel genuine.
Be sure to check out our upcoming blog  that will go over different style options for your cabinetry in the bar and how to plan out the right bar design for your home.
Come to Columbia Kitchen's showroom today to explore all of your options, and make your dream bar a reality.
Here are our Kitchen and Bath Remodeling Services:
At Columbia Kitchens we offer stock builder grade cabinets for immediate purchase or you can choose from our semi-custom and custom lines which are all displayed in our beautiful showroom. When you arrive, we will also show you our vast array of custom countertop options which include: Laminate, Corian, granite, marble, Vetrazzo (recycled glass), Silestone, Cambria, Zodiaq, Caesarstone, Eco, Hanstone, Swanstone, and cultured marble.
Columbia Kitchens offers all this plus FREE estimates, FREE design services, and FREE in-home measuring all done by our friendly, creative staff of professionals.
Let us create the design of your dreams today!
Contact us by calling 410.796.9090 or click here today!
Check us out on Facebook, Twitter and LinkedIn!
Source: http://www.concretenetwork.com/bar-counter.html
http://ezinearticles.com/?Kitchen-Countertop-Bar-Ideas&id=5436541
Tags: backsplashes, bar counters, Bar countertops, bar stool seating, Bar tops, cabinetry in the bar, Corian countertops, Countertops For The Bar Area, custom countertop options, dark finished maple cabinets, glossy surface finish, Kitchen and Bath Remodeling Services, natural Granite top, Standard Bar Top Specs